Estimated reading time: 6 minutes
This is the place to start if you want to know what type of central venous catheter your patient needs.
The first step of central venous catheter placement is confirming the patient actually needs a central venous catheter and consents to the procedure.
Once you know that your patient needs a central line, the question quickly becomes which catheter meets the needs of the patient?
The Major Types of Central Venous Catheters
As a nurse, APP, or MD at the bedside in a training hospital around the world, the non-tunneled central venous catheter (CVC) is typically what we mean when we refer to a central line.
These devices are used for temporary access (<14 days ) and come in various types, lengths, and materials.
The 7 different central venous catheters you need to know are:
7 Fr Triple lumen catheter
8 Fr Double lumen catheter
8.5 Fr Quad lumen catheter
12 Fr Triple lumen catheter
14 Fr Multi-lumen introducer
9 Fr Introducer
6 Fr Introducer
#1: The 7Fr Triple lumen catheter.
The most common central line inserted is the 7 French triple-lumen catheter. Every central line manufacturer I know of has a 7-French triple-lumen catheter in their product lineup. It is the workhorse of your typical academic medical center and ICUs worldwide.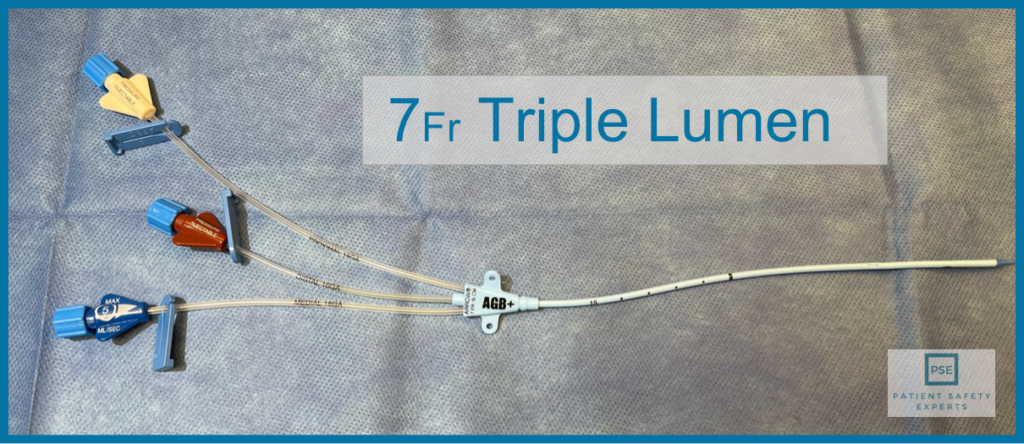 Advantages: It is a versatile line providing central venous access.
hemodynamic monitoring,
fluid resuscitation,
IV access and
medication administration.
It can be used at any anatomical location without much difficulty. Its smaller diameter also makes DVT development in the vein less likely.
Disadvantages: the main disadvantage of the 7 French triple lumen catheter is when it is placed for a job that it was not designed to do, such as:
rapid fluid administration for active bleeding in the OR / ED / ICU
long-term IV access for a patient who needed IV access for > 14 days
2 Important Variations of the 7fr triple lumen catheter
While the 7fr triple lumen catheter is ubiquitous, many vendors are making more variations of the 7fr triple lumen more available. While the exact configuration of the line changes with the manufacturer, the two most common variations are:
Learn more about how to safely and quickly insert central venous catheters by visiting Patient Safety Experts' Online Learning Course Catalog.
#2: The 8Fr Double lumen catheter
If you place the central line for volume resuscitation or simple IV access, the double lumen catheter may be better than a 7fr triple lumen.

Double Lumen Catheter Advantages:
How much do you really know about central line placement?
Central line insertion is a fundamental skill for all residents, fellows, and attendings. Do you really have the knowledge to be a central line professional?
#3: The 8.5Fr Quad / Quintuple lumen catheter
If you are placing a central line for IV access in the ICU for a critically ill patient, we often need as many lumens as possible due to medication compatibility issues.
The quad / quintuple lumen catheters provide as much access as possible for these critically ill patients. These catheters are very versatile. A few key points are
They usually contain one larger lumen for volume resuscitation.
They provide multiple ports for access.
They are not helpful in inserting a swan or transvenous pacer.
#4: The 12Fr Triple lumen catheter
While not routinely utilized in the ICU. The 12Fr triple lumen is often used for anesthetic cases that may require large volume transfusions. In these situations, The two 12 gauge lumens can be attached to a rapid infuser such as the Belmont device and the smaller central port attached to your vasopressor infusions.

#5: The 9Fr Single lumen introducer sheath
The most common single lumen introducer sheath is the 9 French introducer. The term "introducer" refers to the fact that this device, in addition to providing central IV access, is commonly used to introduce another device to the patient.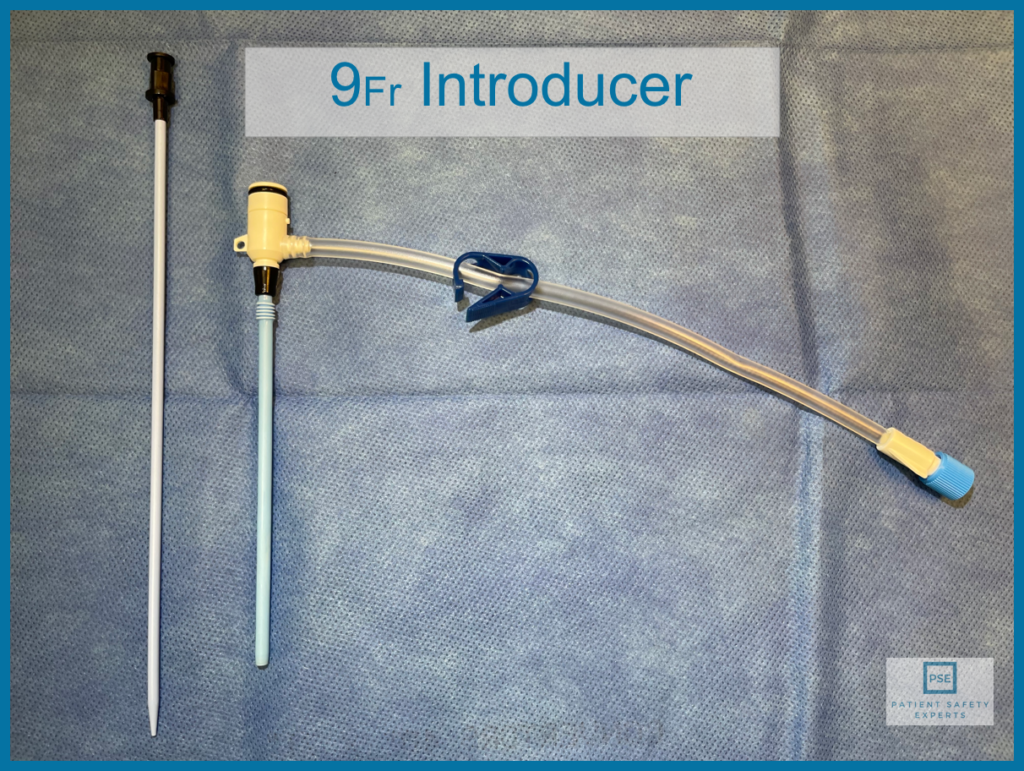 These devices can be used for inserting:
A swan ganz catheter for hemodynamic monitoring
A transvenous pacemaker for temporary emergency pacing.
A pace-port swan. A swan ganz catheter that allows the placement of a pacing wire.
A multi-lumen IV access catheter that provides additional IV access ports but allows the ability to place another device later
These introducers come in various sizes and are also commonly used in procedure suites to introduce a variety of catheters used for catheter-based procedures and interventions.
#6: The 6Fr Single lumen introducer sheath
The 6Fr Introducer is normally used for inserting pacing wires.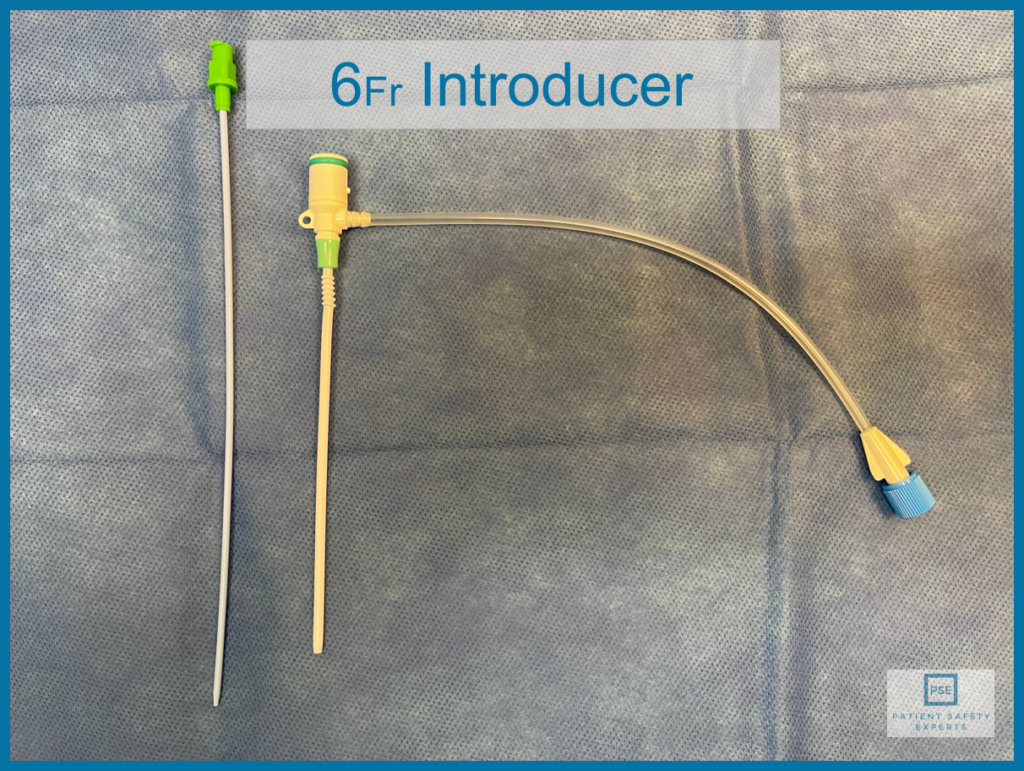 #7: The 14 Fr Multi-lumen introducer sheath "MAC"
The multi-lumen introducer sheath is an introducer sheath with additional vascular access ports incorporated into the sheath. The multi-lumen introducer sheath provides the ability to introduce a catheter-based device and provides additional IV access ports with a single device limiting the number of central venous access sites needed to provide the same level of access.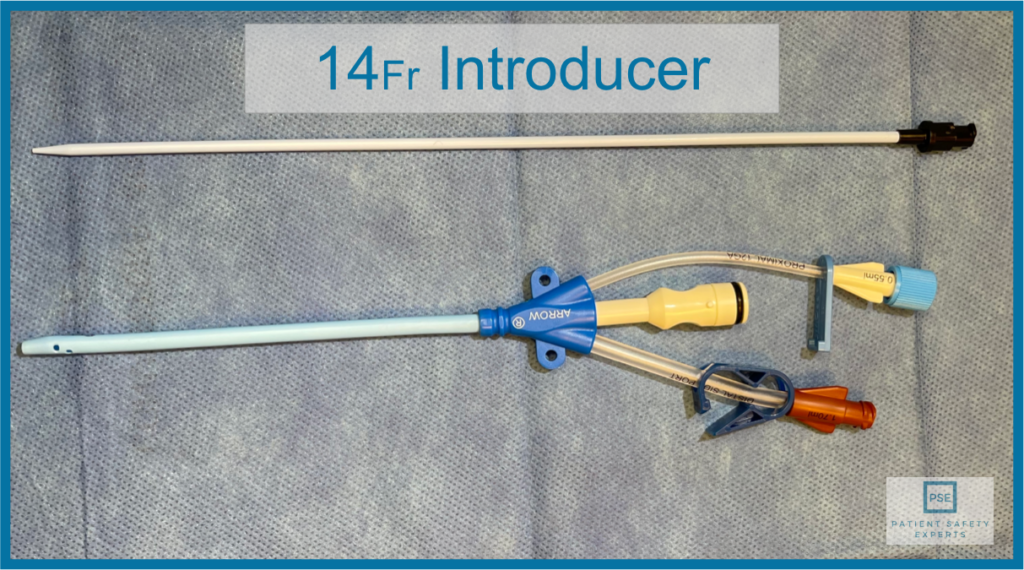 Advantages: The main advantages of the multi-lumen introducer sheath are:
Provides access for other catheter-based devices.
Provides additional IV access without needing a separate CVC
Single insertion site for care and maintenance
Disadvantages: The main disadvantages of the multi-lumen introducer sheath are:
It's a stiff catheter that limits positioning once placed
The large diameter of the catheter can limit its use to patients with large to medium-sized vessels
The large diameter of the catheter can lead to the formation of a central venous thrombus formation.
Short-term dialysis catheters
The final group of short-term non-tunneled CVC is the short-term dialysis catheter used for hemodialysis/renal replacement therapy.
We won't get into the details here but read more about dialysis catheters in our post: Everything you need to know about dialysis catheters.